NEWSLETTER NOW OUT
- to download - click HERE
---
COURTHOUSE SCREENING ROOM OPENS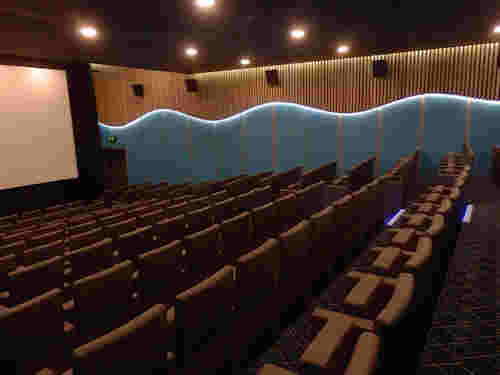 At 197 seats, the new screening room sits alongside a bowling alley, large swimming pool and an amazing array of function spaces and guest rooms.
---
LEARN SOMETHING NEW


How about setting up an Alchemy server for Dolby Atmos. Loads of useful Barco training videos here...
---
NEWLYN FILMHOUSE OPENS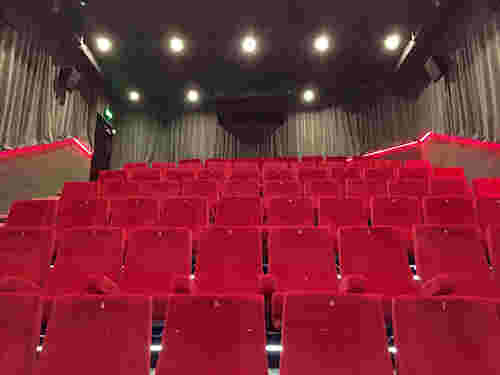 A conversion of a former fish processing plant to two cinemas, space limited and determined to get only the best, we worked with Alastair and Suzy for three years prior to breaking ground. THE CINEMAS ARE STUNNING ! Our systems include two screens of Barco 2k DLP projectors, 7.1 sound and control and monitoring systems toroughtout, allowing remote and unmanned operation as required.
---
QUADROPHENIA at the HAMMERSMITH ODEON / APOLLO / EVENTIM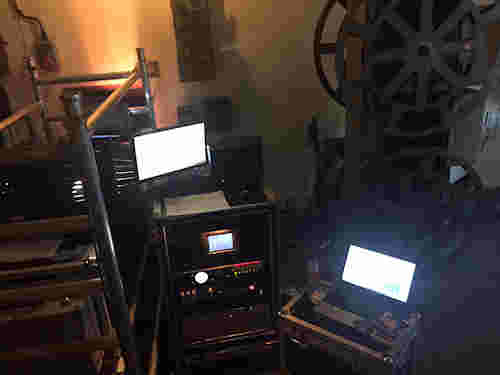 ---
NEW - DP2k-6E, low cost integrated projector and Alchemy server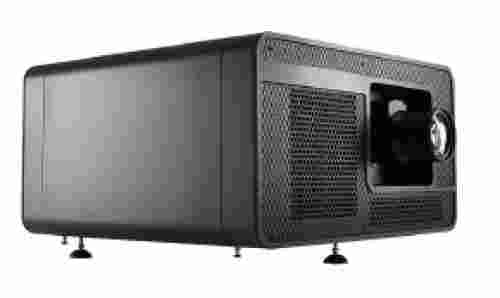 The largest portfolio of D Cinema proejctors presents it's smallest family member - the DP2k6E. Super cost effective, the 6E comes complete with an Alchemy server, motorised lens and twin UHP lamps guaranteed for an industry leading 1500 hours. Low cost of operation and super simple set up makes this the ideal unit for smaller cinemas, alternative content venues and educational uses. The 6E is designed from the ground up for long term heavy duty use and is quiet and cost effective to run.
Download pdf
Get pricing...
---
Why use laser in projectors ?
---
Training resources

We hope that these video tutorials are of some use. Full credit to the authors and sources..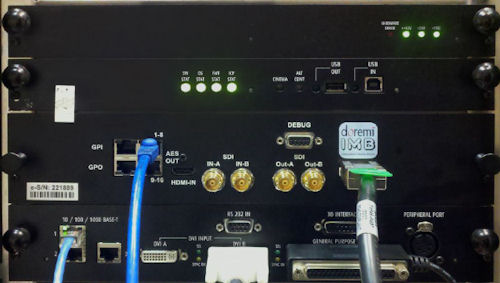 Training videos
---
HIGH END SYSTEMS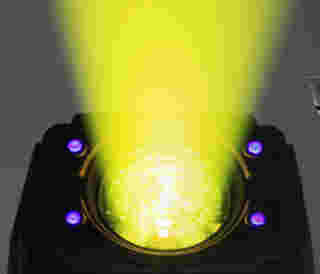 We're pleased to be working with High End Systems - the worlds best theatre lights. These arent for everyone - as the name suggests they are not cheap but are the best - no more replacing Chinese moving heads or LEDS every couple of years or climbing the rig weekly to reset or repair. Thes are simply the best. More here, or look at what they can do - Moving video, mounts for 4k projectors - the sky is the limit and they are build to last. More here..
HIGH END website
---
P-PAA20 SIMPLE AUTOMATION SYSTEM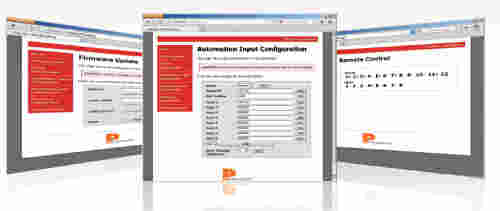 The PAA 20+ makes it easy to interface digital cinema playback equipment with existing cinema control systems, thus enabling fully automated presentations. Low cost and does more than units twice it's price
---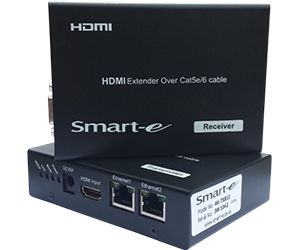 NEW
Long distance HDBaseT true HD, 4k image scaling and transmission - long distance, durable signal transmission and scaling.
.See more..
---
Portfolio of past works
Cinemas
Cinema has been the mainstay of our business since it's inception. See some of our past projects here ..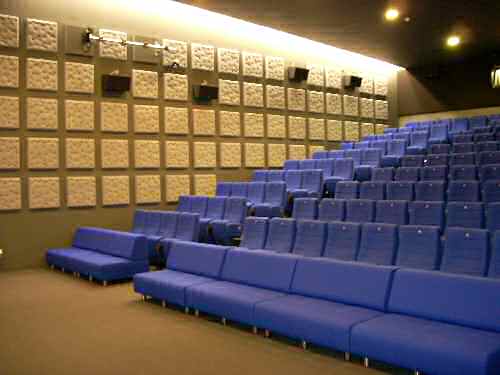 Read More ..
HAVE YOU GOT OUR LATEST NEWSLETTER ? Download here
---
INTEGRATED SYSTEMS
We provide custom designed integrated systems to incorporate not only new gear but existing technologies. Systems can be modular, portable or fixed and can range from a simple, plug-in rack to a multiple room IP wired building.
Connectivity
We believe in total connectivity for D cinema - not only off site support but ease of local operation is greatly enhanced by the installation of internet or ASDL connectivity as well as local wireless. Our costings usually allow for a wireless network and netbook as standard. We have included the projector and server side of this in our costing, and strongly recommend the installation of a suitable network or ASDL line to allow for real world connectivity and support. This needs to be either a stand alone ASDL line or a wired network point where we can gain full internet access without altering our PC settings (we remote into this via Teamviewer). Let us know if we can provide more details.
Systems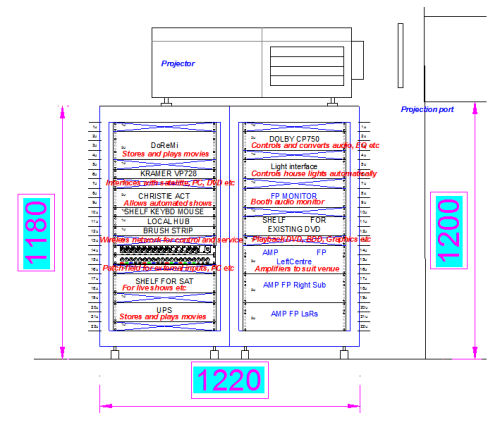 The following is a fairly typical two bay rack with a Barco DP2k10SX projector installed. Note that these are custom built so yours will vary from this in both content and size, plus we customise the height of these racks to suit your layout and port window heights.

Automation
Automation systems for D cinema offer far more advantages than could initially be thought. Good skills are required to programme and "build" the film on receipt, however this can be done anytime whereas the skill required to show a film is as simple as setting a timer or pressing a button. Given a basic interface with your house lights, a simple automation system could self-run a full days or even a week worth of shows without manual intervention. More advanced systems can control anything from signage to curtains to theatre doors. There is no substitute for a good technician however adding a little control technology not only takes the mundane tasks of projection away from the operator (waiting 2 hours to turn the lights on at the end of the show is a thankless task !), freeing them up for other duties or to monitor the system either locally or remotely. Low yielding shows, which wouldn't in the past have justified a projectionist and a print delivery, may suddenly become not only viable but profitable. Typically our clients will add extra screening dates or session times to take advantage of this.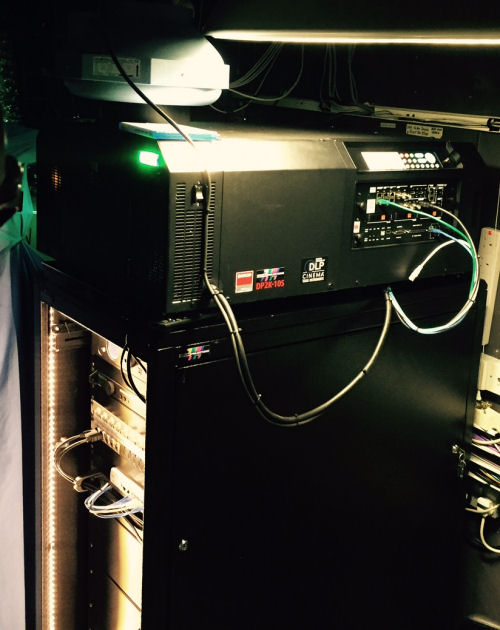 Support
Support is key to any installation. We don't have call centres, diverted phones or service "tickets", nor will we divert you to a rota engineer who knows nothing about your site. We do have dedicated engineers, 24/7 mobiles and (subject to lines) full site connectivity at all times. We will have you talking to an engineer (or more likely an engineer talking to your projector) when others will have you searching for a code on the back of your server, in the dark with the audience waiting ! Most gear comes with a one year warranty however projector and server warranty is often longer, pending registration on the makers website. Manufacturer support is available too, from Barco's dedicated UK D cinema folk based in Reading, so no, you don't need to speak Japanese nor wait till the Canadians wake up to answer a query !
Total cost of ownership
We choose Barco projectors for their reliability, long life and lowest cost of running. Historically Barco projectors have the highest trade in value of any projector. Barco guarantee longer spare parts availability than any other manufacturer, and usually hold substantial spare parts well beyond this period. Projectors are designed out of steel, based on larger "rock and roll" machines - extract, cooling, light engines and power supplies are all based on larger machines designed for far heavier duty cycles. Reliability, running costs and resale all benefit. The DP2k10SX or DP1200/1500 use standard xenon lamps, available at around £345 from a variety of vendors and guaranteed for 2000 hours plus.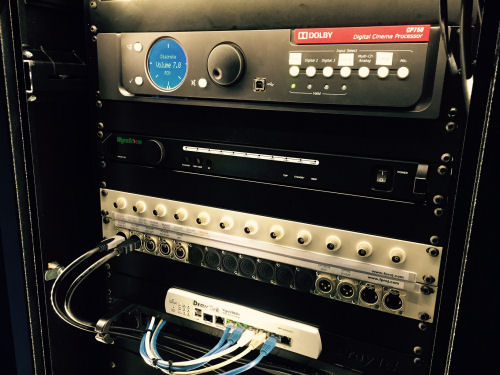 Alternative content
Not all Digital cinemas run alternative content, so therefore the projectors do not have the front end required to plug in a laptop, DVD, bluray or satellite. To run these formats, we supply a scaler or alternative content processor, allowing an array of inputs, controls and enhancements similar to a top end LCD projector. This allows you to screen virtually anything, alongside DCI approved films described in the preceding paragraph. Finally there are options for 3D and satellite feeds. All of the gear listed is compatible with both, and options are available for both active and passive 3D and for satellite delivery of main and alternative content such as live theatre, opera and sporting events.
---
See also E Cinema projectors
See also Servers
See also D Cinema Sound
See also Our design and install services
---