NEWSLETTER NOW OUT
- to download - click HERE
---
COURTHOUSE SCREENING ROOM OPENS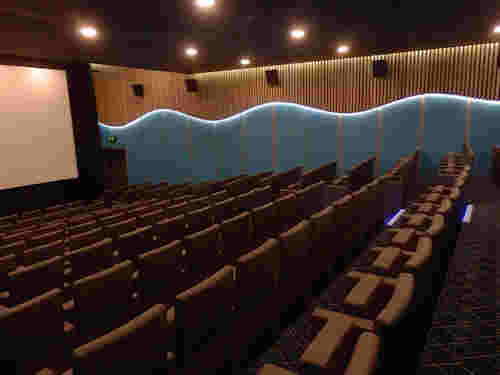 At 197 seats, the new screening room sits alongside a bowling alley, large swimming pool and an amazing array of function spaces and guest rooms.
---
LEARN SOMETHING NEW


How about setting up an Alchemy server for Dolby Atmos. Loads of useful Barco training videos here...
---
NEWLYN FILMHOUSE OPENS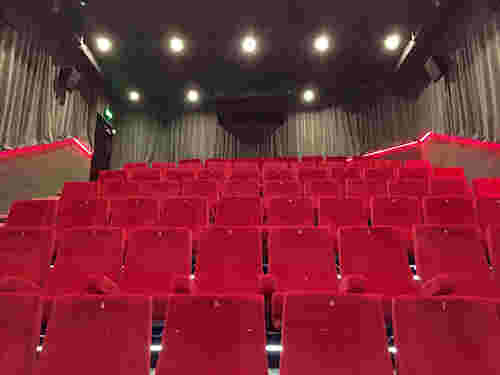 A conversion of a former fish processing plant to two cinemas, space limited and determined to get only the best, we worked with Alastair and Suzy for three years prior to breaking ground. THE CINEMAS ARE STUNNING ! Our systems include two screens of Barco 2k DLP projectors, 7.1 sound and control and monitoring systems toroughtout, allowing remote and unmanned operation as required.
---
QUADROPHENIA at the HAMMERSMITH ODEON / APOLLO / EVENTIM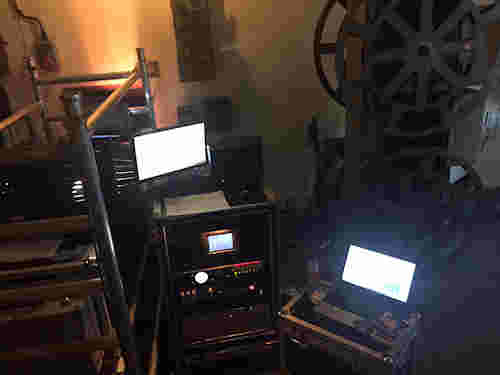 ---
NEW - DP2k-6E, low cost integrated projector and Alchemy server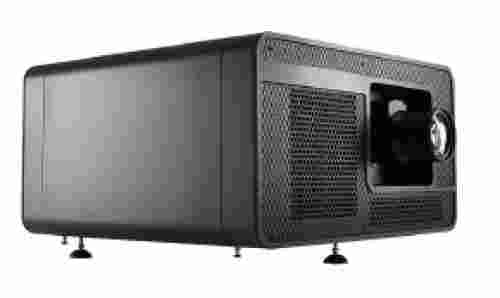 The largest portfolio of D Cinema proejctors presents it's smallest family member - the DP2k6E. Super cost effective, the 6E comes complete with an Alchemy server, motorised lens and twin UHP lamps guaranteed for an industry leading 1500 hours. Low cost of operation and super simple set up makes this the ideal unit for smaller cinemas, alternative content venues and educational uses. The 6E is designed from the ground up for long term heavy duty use and is quiet and cost effective to run.
Download pdf
Get pricing...
---
Why use laser in projectors ?
---
Training resources

We hope that these video tutorials are of some use. Full credit to the authors and sources..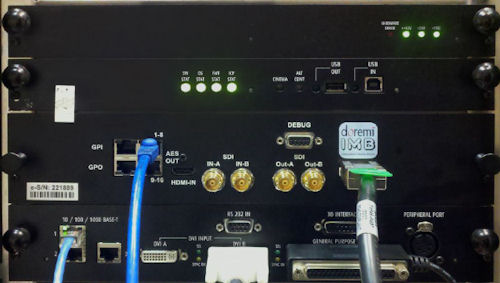 Training videos
---
HIGH END SYSTEMS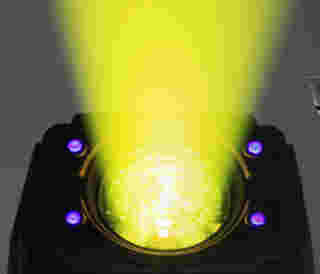 We're pleased to be working with High End Systems - the worlds best theatre lights. These arent for everyone - as the name suggests they are not cheap but are the best - no more replacing Chinese moving heads or LEDS every couple of years or climbing the rig weekly to reset or repair. Thes are simply the best. More here, or look at what they can do - Moving video, mounts for 4k projectors - the sky is the limit and they are build to last. More here..
HIGH END website
---
P-PAA20 SIMPLE AUTOMATION SYSTEM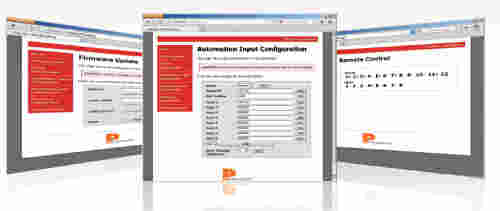 The PAA 20+ makes it easy to interface digital cinema playback equipment with existing cinema control systems, thus enabling fully automated presentations. Low cost and does more than units twice it's price
---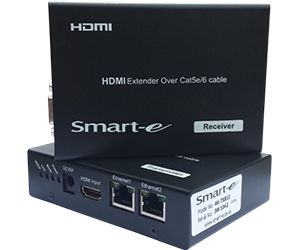 NEW
Long distance HDBaseT true HD, 4k image scaling and transmission - long distance, durable signal transmission and scaling.
.See more..
---
Portfolio of past works
Cinemas
Cinema has been the mainstay of our business since it's inception. See some of our past projects here ..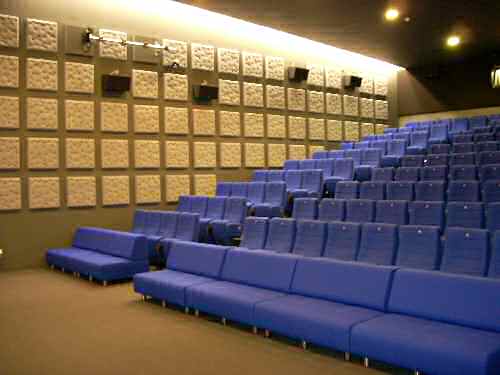 Read More ..
HAVE YOU GOT OUR LATEST NEWSLETTER ? Download here
---
CINEMA SOUND PROCESSORS
---
From the most basic, multi function sound processor to the most elaborate design-and-build Dolby Atmos 48 channel labyrinth, let us help improve your sound
---
---
NEW ! Trinnov Ovation AES Cinema Processor


Something different and we think innovative. Since the days of the CP50 we have been setting theatre up in the same way. Resisting the temptation to add channels, gimmicks and marketing names, trinnov have looked at the way we process 5.1 and 7.1 sound - as installed in 99% of the worlds cinemas. Time alignment is standard in rock-and-roll, so why do we continue to use what were great eq techniques (in Ray Dolby's day, for the first Star Wars !) today. Download the pdf and see how one of these can make any theatre sound amazing - WITH your existing amps and speakers. Money back if it doesnt WOW you.
---

Dolby CP750 Cinema Processor
Setting the standard in 7.1 Digital cinema sound
Download pdf
Enquire now...
---

Dolby CP850 Cinema Processor
Dolby Atmos Cinema processor - alignment and design included
Dolby Atmos® provides a unique approach to cinema audio, giving filmmakers unprecedented power and freedom to realize their creative visions. In your cinema, Dolby Atmos gives audiences a natural and enveloping sound experience that fully reflects the original artistic intent.
Download pdf
Enquire now...
---

Dolby CP850U Upgradable Cinema Processor
Dolby Atmos Cinema processor - functions similar to a CP750, upgradable to Atmos
Download pdf
Enquire now...
---

Christie SKA-3D, audio processor and ACS switch
Christie SKA3d-Audio and video processor
Christie® SKA-3D makes alternative content, such as preshow advertising and content from Blu-ray Disc players, gaming consoles, satellite receivers, computers and multiple 2D and 3D sources look and sound as spectacular as feature presentations. This powerful audio and video processor can extract the latest, high-quality, lossless audio from HDMI signals, such as Dolby TrueHD® and DTS-HD Master Audio®, for integrating into cinema audio systems.
Download pdf
Enquire now...
---
D to A converters
DoReMi D to A 6 - 6 channel Digital to Analogue converter
Dolby DMA8+ - Multi format converter
USL ECI60 - Multi format converter
---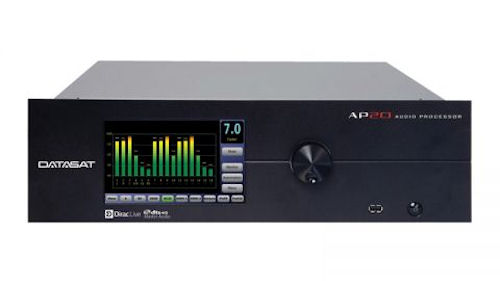 Datasat AP20
The Datasat AP20 is the product of years of innovation and experience in delivering digital sound for cinema. It delivers the precise reproduction of both digital and analog sources. It is the professional solution that is developed by sound engineers for sound engineers.
The AP20 offers an outstanding array of features in a single box. With 16 channels of digital and analog inputs and outputs, it delivers an impressive total of 85 input options and 34 output options - almost double its nearest competitors. The result is that the AP20 is one of the few audio processors capable of 3D audio today.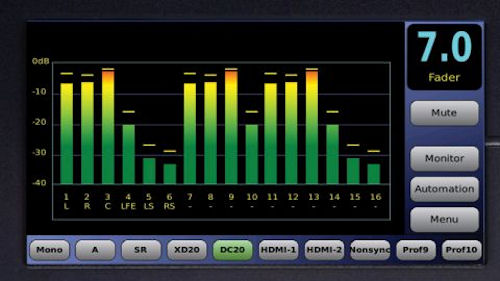 Its market leading features include unique room optimization technology, granular sound control and a comprehensive range of memory pre-sets to facilitate room tuning and the optimum playback of alternative content. The AP20 delivers a true-to-source sound stage with unbeatable voice intelligibility and crystal clear musical score and effects reproduction.
An 8 channel version of the AP20 is available for cinema exhibitors that have less demanding requirements but still demand outstanding sound quality. An easy upgrade path is available to the full AP20 product.
Versions available;
DTS/Datasat AP20 16 channel full cinema processor
DTS/Datasat AP20L cinema processor NO HDMI SUPPORT
DTS/Datasat AP20 upgrade from 8 to 16 chl
DTS/Datasat AP20 upgrade from L to full AP20 incl HDMI
Download pdf
Enquire now...
---

USL JSD100 Digital cinema processor
A processor specially designed for Digital Cinema applications
Features;
State of the art 96k sample per second hardware
Inputs includes two COAX with AC3 and one channel TOSLINK with AC3 when optional DI-83 board is installed, eight standard channels of AES-EBU audio and sixteen channels AES-EBU with optional DI-83 card.
Analog inputs include one PA microphone, one Calibrated microphone, one two channel and one eight channel input
Outputs are 8 Channels of Main Out (Balanced Analog Audio), 8 Channels of Monitor Out (Balanced Analog Audio), Visual Narrative (VI-N) Balanced and Hearing Impaired (HI) Balanced Out
Two fully configurable format buttons to address such issues as audio level changes and three or five stage channels
Control for the unit includes one Ethernet RJ45 @ 10/100 one USB, one RS232 on a DB9 connector for computer configuration and one Automation control over a DB25
Power supply for main and backup power with a built in "Sleep Mode" which conserves power after a selectable amount of time of no audio activity
One AES-EBU Bypass for Audio SD Memory Card to backup and store all settings
One Global Time Delay for video and audio synchronization @ 0-250ms
One Surround Delay @ 0-150ms
Versions available;
USL JSD100L Digital cinema processor with 8 x AES inputs, no 5.1
USL JSD100D Digital cinema processor with 5.1 chip and 8 x AES
USL JSD100M with 5.1 chip and 16 channel extension
---

USL JSD60 Digital cinema processor
A processor specially designed for Digital Cinema applications.
Features;
State-of-the-art 96kHz digital processing.
Digital formats include an eight channel AES/EBU input, one coax (S/PDIF) and one TOSLINK optical, both with optional Dolby Digital® and DTS® decoding.
Analog formats include a six channel balanced input, stereo unbalanced input with matrix decoding, and one microphone input with phantom power.
Outputs include eight channels of balanced analog audio, plus HI/VI-N balanced outputs.
Optional three channel bi-amped digital crossover.
One fully configurable format button to address such issues as audio level changes or 5.1, 7.1 switching.
Audio/Video synchronization delay configurable for each format (0-190ms) plus a surround delay (0-150ms)
Remote monitoring via 10/100Mbps Ethernet and local configuration via a USB port on front panel.
SD memory card to backup and store all settings.
Bypass supports all inputs.
Compact one RU chassis.
Auto EQ included.
Drive-in Support included.
Versions available;
USL JSD60L Digital cinema processor with 5.1 / 7.1, no AC3 or XO
USL JSD60D Digital cinema processor with DI84 module for AC3 an DTS no XO
USL JSD60DX with DI84, AC3, DTS, crossover

Download pdf
Enquire now...
---
See also Projectors
See also D Cinema Servers
See also Our design and install services
---